News & Events
This page is Novacam's channel for company news, upcoming event announcements, and 3D metrology insights relevant to professionals in charge of high-precision measurements across industries.
Click here to subscribe to Novacam's newsletter that comes out 3 to 4 times a year.  Older newsletter issues are available here.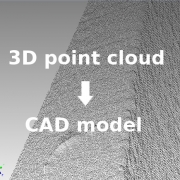 Novacam Technologies Inc.
This is a question we get occasionally, even though generating CAD models is not the principal function or focus of Novacam 3D metrology systems. Novacam systems provide automated non-contact high-precision measurements for industrial applications. To measure, you don't need a CAD.
The short answer is yes… though not directly. You'll need to follow a step or two beyond the software supplied with our systems. But we can get you started in this article.
https://www.novacam.com/wp-content/uploads/Cutting-tool-edge-3D-point-cloud-view-with-text2.jpg
435
500
radka
https://www.novacam.com/wp-content/uploads/profilometer1.jpg
radka
2019-12-16 17:30:04
2019-12-23 10:12:30
Can I generate a CAD model from my 3D point cloud?