Microcam Profilometers

Microcam fiber-based optical non-contact 3D profilometers provide:

Surface and cross-sectional inspection for  industrial metrology applications
High speed, sub-micron resolution, excellent repeatability
Ease of use for manual  or automated applications
Defect detection, 3D measurements (dimensions, roughness, thickness, vibration), GD&T, imaging
Modularity and versatility with  fiber-based probes that reach into hard-to-reach spaces
Overview
Measurements

Optical, non-contact, non-destructive
High speed:1-30 kHz and higher
Sub-micron resolution, excellent S/N ratio
2D and 3D surface and subsurface characterization
Thickness, roughness, vibration
Long stroke profilometry

Imaging

Surface profiles
Cross-sections (B-scans, C-scans)
Volumetric images

Fiber-based probes

Inspect inside bores, tubes, and crevices
Provide versatility for high-speed online inspection
Key benefits
Applications feature a wide range of materials: metal, plastics, polymers, glass, metal coatings, silicone, adhesives; reflective, transparent, semi-transparent, specular, nonspecular
Wide range of objects and surfaces: objects can be small (several microns wide) to large (no upper limit), stationary or moving, solid or liquid, and include interiors of bores and tubes, exteriors of cylinders, concave or convex spherical shapes, extremely hot or cold, radioactive
Versatility of setup: Non-contact probes work up to 1 m away from surface and more than 1 km from interferometer
Small-diameter probes reach in to measure insides of bores and small-diameter tubes
High-aspect-ratio surface features can be acquired: channels, grooves, steps, sharp edges, and more
Continuous, long profile scanning: no area stitching required
Option of multiplexing probes with single interferometer for simultaneous measurements of several objects
Easy integration of fiber probes in labs and in process: on XY tables, on multi-axes scanning mechanisms, inside machining centers, above moving webs, etc.
Rugged probes: inspection possible in hostile environments where humans cannot work
USB connection for data transfer from interferometer to PC or laptop
Applications
Metrology Applications
Typical measurements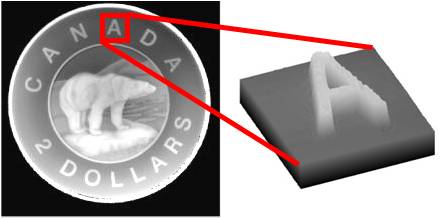 Thickness: single-layer or multilayer films, coatings
Surface roughness: surface characterization, flatness, and more
Volume loss: component wear or other damage
High-aspect-ratio features: steps, holes, grooves, channels
Hard-to-reach spaces: interiors of bores, small aperture tubes, etc.
Profilometry in hostile environments: radioactive, cryogenic, very hot
Long stroke profiles
3D metrology and imaging for industry and R&D
Quality control
Online 3D production inspection, GD&T
Statistical process control SPC
R&D
Gallery
Gallery
Sample images (click for close-up views)
Software
Metrology Software
Data acquisition
Novacam high performance Data Acquisition Software is included with all Microcam non-contact profilometers.

PC, Windows®-based
User-friendly interface for scan control on any Novacam inspection station (see Accessories tab)

The Application Programming Interface (API) is available for system integrators and OEMs. With the API, a wide variety online and offline applications can be accommodated.
Data analysis and 3D imaging

Data analysis and 3D imaging may take place offline or in real time.

Data output formats: point cloud, 32 bit tiff

Output exportable to:

CAD/CAM software: PolyWorks, Geomagic, SolidWorks, Creo Elements/Pro (Pro/ENGINEER), etc.
Imaging, visualization and numerical analysis software: ImageJ, Octave, MatLab, Mathematica, IDL, IGOR Pro
Surface and roughness analysis software
STL file format
Option: Novacam Volume Loss application

Novacam Volume Loss Application processes the acquired surface dimensional data to determine volume loss from abrasion and wear:

with micron precision
on samples and components of various shapes and sizes

See more on determining volume loss.
Accessories
Fiber-based optical probes
Standard probes

Standard 18mm: 18 mm diameter, front viewing or 90º
Standard small-diameter: choice of

4 mm diameter
2.5 mm diameter
1.6 mm diameter

front viewing or 90º

Custom probes
Novacam designs and builds custom probes as needed. These can be:

Extra-small, with diameters as small as 0.9 mm
Rotational
Extra-long to reach into hard-to-reach spaces
Combined with galvanometers for efficient area or strip scanning
Extra rugged for high temperatures and extreme environments
Lab inspection stations
For lab and QA applications:

Inspection stations with probe displacement in 2, 3 or 4 axes
Granite tables optionally available and recommended for some applications

Probes may be integrated with 3rd party CMMs (coordinate-measuring machines), CNC (computer numerical control) machines, or any robots.

Novacam designs and builds custom benchtop fixtures as needed.
Inline probe fixtures
Web scanning can be accomplished
with a single scanning probe moving across the web or
with multiple stationary probes which are multiplexed by an optical switch.
Novacam designs and builds custom inline fixtures as needed.
Optical switches for use with multiple probes
Optical switches are available for multiplexing up to 8 probes to a single interferometer.
Specifications
System specifications
System models

Microcam-3D

features the greatest imaging depth with excellent sensitivity at affordable price.

Microcam-4D

provides highest acquisition rate and very high sensitivity.

Custom solutions are also available.

Model
Microcam-3D
Microcam-4D
Technology
low-coherence interferometry
Light wavelength
1310 nm, infrared
Non-contact measurements
Depth of field
depends on selected probe parameters,
see Parameter selection for standard probes table below
Scanning depth range options*
3.5 mm
7 mm
5 mm
Acquisition (A-scan) rate
2.10 kHz
1.05 kHz
30 kHz
Axial (Z-axis) resolution
< 0.5 µm
Light spot size (Lateral [XY-axis] resolution)
4.1 - 146 µm, depends on selected probe parameters,
see Parameter selection for standard probes table below
Standoff distance
1 - 100 mm for standard probes
up to 1 m for non-standard probes
Repeatability
< 1 µm
Thickness measurements
Thickness measurement range (in Air, IR = 1.0)
10 µm - 3.5 mm
10 µm - 7 mm
20 µm - 5 mm
Typical materials for thickness measurements
glass, polymers, multi-layer films, coatings, plastics, silicone, liquids, specular or non-specular
Sample reflectivity
0.1 - 100%

* To further increase maximum scanning depth, a mechanical displacement axis is available.
Parameter Selection for Standard Probes
Focal length (mm)
12.7
19.0
30.0
50.0
75.0
Aperture (mm)
1 mm
Light spot size (µm)
24.7
37.0
58.4
97.4
146.0
Depth of field (µm)
739
1654
4124
11455
25773
2.4 mm
Light spot size (µm)
8.8
13.1
20.7
34.5
51.7
Depth of field (µm)
93
207
517
1437
3233
4 mm
Light spot size (µm)
6.4
9.5
15.0
25.1
37.6
Depth of field (µm)
49
110
274
760
1710
7.6 mm
Light spot size (µm)
-
4.1
6.5
10.9
16.3
Depth of field (µm)
-
21
52
143
322

This table shows the relationship of light spot size (lateral resolution), focal length, depth of field, and probe aperture. Depth of field is the distance on either side of the focal plane where light spot size is √2 (approx 1.42) bigger than the spot size in focus.
Standard Microcam system includes
Microcam-3D interferometer with 4 mm depth range
2-axes inspection station with manual elevator and 2-axes motion controller
1 standard probe
PC with Novacam acquisition software
1 year warranty
Instrument safety

Microcam systems feature an in-probe red laser pointer (650 nm wavelength) for alignment purposes.
Microcam systems are Class 1M Laser products, with < 20 mW of infrared and < 5 mW of in-probe laser pointer.
For a detailed system specification sheet or assistance in selecting a non-contact profilometer system, please Contact us.